About WRDW - TV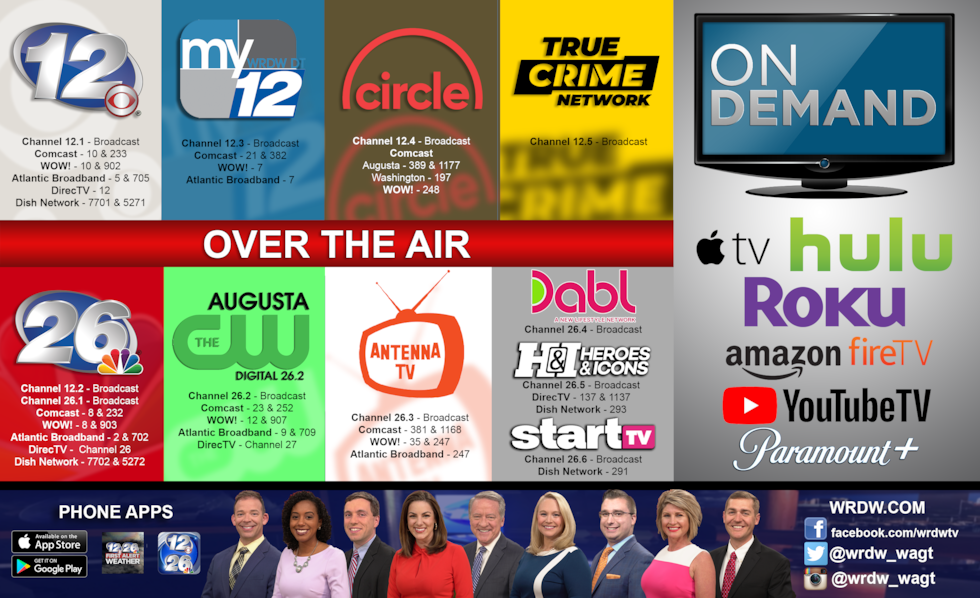 WRDW-TV News 12 is an award-winning television station and news organization located in Augusta, Georgia, covering the Central Savannah River Area.
WRDW-TV is owned by Atlanta-based Gray Television, and is a sister station to NBC affiliate WAGT-CD (channel 26). Our offices and studios are located at 1226 Gray Way, Augusta, Georgia 30909.
The News 12 NBC 26 award-winning news team has been recognized with national, regional, and state honors including 2 national and 16 regional Edward R. Murrow Awards. As Augusta's CBS and NBC affiliate, the news team produces 40 hours of news weekly and also has a dynamic presence on digital platforms and social media.
In February of 2021, the station launched its new facility complete with state-of-the-art studios, control room, and newsroom.
Since our first broadcast day on February 8, 1954; WRDW-TV has offered the best in news, entertainment, weather, sports, and investigative reporting. In addition to providing high-quality programming from both the CBS and NBC television networks; we also offer programs from the CW, MyNetworkTV, and AntennaTV networks.
Station Address:
1226 Gray Way
Augusta, Georgia 30909
Main Telephone: (803) 278-1212
Newsroom: (762) 685-5060
Newsroom Tips & Information: newsroom@wrdw.com
WRDW-TV News Internships
Launch your media career with WRDW-TV's Gray Television paid internship program!
As a paid intern, you won't sit and watch someone else doing their job. Our intern program is an immersive experience where you serve as a valued team member to our award-winning teams.
Interested in learning more? Check out the program description and apply today! You'll be able to choose your desired location(s) and areas of interest. Apply here:
https://recruiting.ultipro.com/GRA1017GRYT/JobBoard/ae441110-89bd-444d-8ad2-b76c7b9db7a9/OpportunityDetail?opportunityId=11f0cf1f-59c1-4324-9ba1-a8722fd11e45
News Video Requests
To request a DVD or digital copy of a news story or interview seen on News 12 NBC 26 newscasts, visit Metro Monitor or call 1-800-861-5255.
FCC Documentation:
Political Broadcast Advertising:
Mike Jones
Director of National Political Sales
Gray Television – Washington, DC
Desk: (202) 400-0598
Closed Captioning or Audio Description Liaison
Individuals with disabilities who have questions about or need assistance with our Closed Captioning, Audio Description or our Public Inspection File may contact our station's captioning hotline or our public file liaison.
Captioning Hotline: (803) 489-0349 (For closed captioning or audio description inquiries only)
Email: closedcaptioning@wrdw.com
Public File Liaison: Tammy Greene (762) 685-5368
Mail:
WRDW-TV/WAGT-TV
1226 Gray Way, Augusta, Georgia 30909
Station Management
Vice President & General Manager: Mike Oates
Vice President of News: Estelle Parsley
General Sales Manager: Angie Doolittle
Chief Engineer: Joe McGee
Assistant News Director/Executive Producer: Sarah Lusk
Director of Lifestyle Programming: Nathalia Jacques
Day Executive Producer: Stanley Danzey (762) 685-5337
Chief Meteorologist: Riley Hale
Sports Director: Daniel Booth
Digital Content Manager: Steve Byerly
Creative Services Director: Cliff Bennett
Operations Manager: Lauren White
Programming: Joseph Lillis
Accounting/Human Resources/Programming/FCC Liaison: Tammy Greene
News Tips and Requests for Coverage: newsroom@wrdw.com
Station Advertising & Sales
Interested in advertising with News 12, NBC 26, My12, CW Augusta, AntennaTV, Circle, or WRDW.com? Contact one of our account executives below.
Angie Doolittle - General Sales Manager
(762) 685-5301
Brittanie Hall - Digital Sales Manager
(762) 685-5303
Jennifer Dixon - Regional Sales Manager
(762) 685-5302
____________________________________________________________________________
Chip Creamer - Account Executive
(762) 685-5309
LeVern Hillary - Account Executive
(762) 685-5305
Peggy Maddox - Account Executive
(762) 685-5307
Buddy Miller - Account Executive
(762) 685-5310
Marc Williamson - Account Executive
(762) 685-5311
Billy Wilson - Account Executive
(762) 685-5314
____________________________________________________________________________
Susan DeLuca - Sales Assistant
(762) 685-5313
Brenda Ramsey - Sales Assistant
(762) 685-5306